March 13, 2021
ICONYCS, Housing Analytics Launches Data & Demographics Platform
ICONYCS, Housing Analytics Launches Housing Data & Household Demographics Innovative Cloud Based National Data BI Platform
March 1, 2021
ICONYCS, Housing Analytics, real estate business development intelligence and technology announces their just launched, home ownership analytical platform that can transform your business segmentation.
ICONYCS is a technology platform dedicated to empowering real estate and mortgage professionals in analyzing real estate socio-economic trends surrounding owner demographics and property and financing characteristics. It offers an integrated suite of cloud-based tools for analysts, risk managers, traders, business managers, developers, media outlets, and state and local public agencies.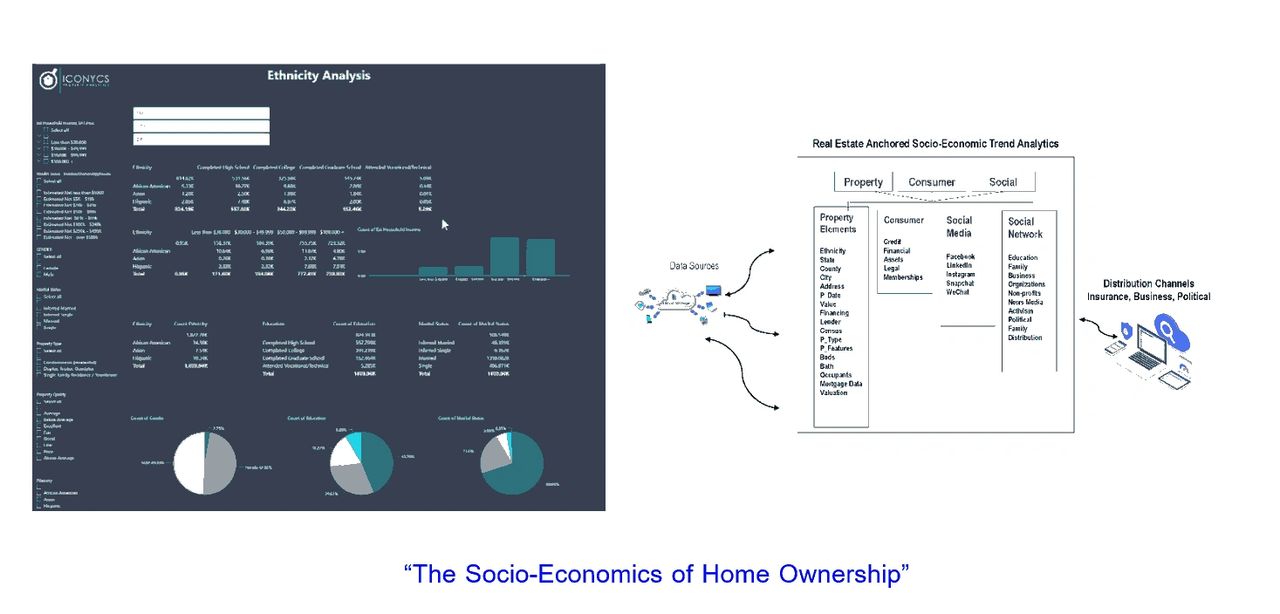 Real Estate veteran David Van Waldick, as Chief Executive Officer and design Developer, has launched ICONYCS, Housing Analytics. ICONYCS, HA is an industry leading concept in Home Ownership and Social Market Analytics. Van Waldick is recognized for his 30 years experience in the Mortgage, Real Estate, P&C Insurance, and Technology areas of the Real Estate Industry. Where he has managed mortgage portfolios, data analysts, mortgage, and real estate sales, and consumer facing product development and sales.
"I am excited to launch ICONYCS, which has been in development for over a year" said Van Waldick. "As a housing industry veteran of many roles, this is a culmination of many of my passions and strengths in the real estate space. In the past year, the combination of Home Ownership growth during the 2020 pandemic, and listening to the national unrest due to Social Imbalance of wealth, income, and equity, the topic of housing in-equality has become the hottest topic in news, academia, and Politics. We can no longer lump all homeowners into the same bucket and assume there are no biases leading to the further erosion of home ownership and equity among the 130 million homeowners nationwide. We can no longer do business as usual in the housing and mortgage related services that make up almost 20% of our GNP. The Vision of ICONYCS is "To promote the home ownership opportunity for every eligible person in America"
Prior to Launching ICONYCS, Van Waldick spent time in Property Valuation and Collateral Analytics with Veros, Real Estate Solutions as Sales Director. Before that, Van Waldick has a varied and extensive career as CFO for a commercial P&C MGA, Broker/Owner of a Mortgage and Real Estate firm originating over $500 million, in Loan and Real Estate sales, VP. Investment Banker with Key Bank Private Equity, Sales and Product Development team at Experian / First American Property Data, and early on in his career worked for Wells Fargo Bank as AVP Portfolio Manager after WFB acquired Crocker Bank. Van Waldick has a B.S. in Finance and Investment from SDSU, where he graduated after spending 6 years in the military as a nave Air Intercept Controller with two overseas tours shipboard as a Radar Operator at the end of Vietnam.
For more information contact David Van Waldick, CEO, ICONYCS, at info@iconycs.com, or call 760.672.0145